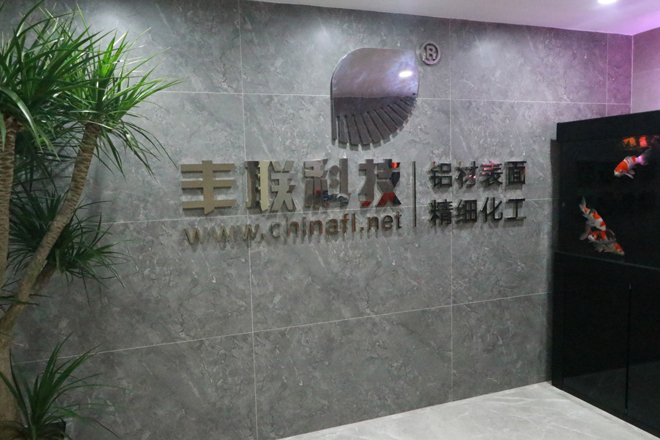 仙桃市丰联化工有限公司创立于2001年,行政中心设在广东省佛山市南海区铝材第一镇——大沥。公司是一家专业开发及生产铝合金表面精细化工产品的企业,配备行业标准化的试验中心及实验人员,为国内外厂商提供高品质的铝材阳极氧化、电解着色以及喷涂前处理等一体化表面处理解决方案。
公司的主营产品有:酸蚀砂面剂、碱蚀添加剂、低温抛光剂、电解着色稳定剂(单锡盐&锡镍双盐)、金黄着色添加剂、钛金着色添加剂、红铜&紫铜着色添加剂、黑珍珠着色添加剂、常温及中温封孔剂、喷涂脱脂剂、铬化剂、无铬钝化剂、无氟无镍常温及中温封孔剂等。
铝材表面科技是一道绮丽漂亮的美景,不仅让铝材增辉增彩,还使其更具质感与活力。而当下,唯有铝材表面处理与环保的结合,方能使这一过程相得益彰。丰联化工愿与您一道精诚合作、互惠互利、共同发展。
Xiantao Fenglian Chemicals Co., Ltd is founded in 2001, headquartered in Dali town, Nanhai District, Foshan. It is an enterprise dedicated to developing and producing aluminum alloy surface treatment chemical additives. Equiped with standardized testing center and laboratory personnel; provide customers from hone and overseas with high-quality products and intergrated surface treatment solutions about anodizing, electrolytic coloring and powder coating.
Company main business: Acid sanding additive, Alkaline etching additive, low temperature polishing additive, Sn&Ni salt electrolytic coloring additive, Sn salt electrolytic coloring additive, electrolytic coloring additive for golden color, electrolytic coloring additive for titanium golden color, copper salt electrolytic coloring additive, cold sealing additive, Middle temperature sealing additive, Degreasing additive, Film formation additive of chromium, Chromium-free passivation additive, Nicket-free and fluoride-free medium temperature sealing additive.
The surface treatment technology not only make the aluminum alloy brighten and colorful but also showing rich textures and vigor. Today, we combine technologies with the environmental protection so as to complement and promote each other's work, contribute our shares to the surface treatment environmental protection. Fenglian Chemicals is willing to join hands with you to develop business together and finnally achieve the mutual benefit.